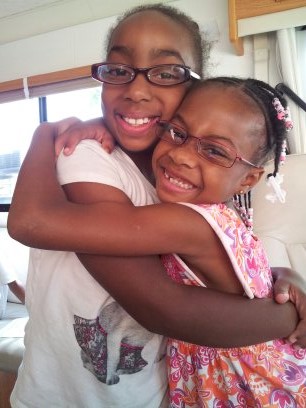 Crown Vision Center is excited to announce our first ever "Supplying Classes with Glasses" campaign in our 23 St. Louis- area locations.  "Supplying Classes with Glasses" supports our Kids Vision for Life St. Louis (KVFL-STL) program, which delivers FREE eye care services to children K-6th grade in Title 1 elementary schools.  Kids Vision for Life St. Louis provides free vision screenings, free eye exams, and prescribes free glasses to elementary students in need.
KVFL-STL has been serving Title 1 elementary schools for the past five years in the St. Louis community.  In 2009, the first year of our program, we traveled to 17 elementary schools and prescribed 403 pairs of FREE glasses.  This year we visited 65 elementary schools and prescribed 2,017 pairs of glasses to students in need.  As our program grows our ambition grows and we want to continue to serve more students, more school districts, and fill the need of all Title 1 elementary school students in the St. Louis city and counties.  Currently, KVFL-STL provides services in the following school districts: Saint Louis Public School district, Normandy, Riverview Gardens, Jennings, Ferguson-Florissant, Ritenour, Pattonville, and selected Charter schools in the same districts.
Eyeglasses and resulting good vision at school are considered a "passport to success" for children.  Lack of awareness about vision health is a major problem, especially among low-income families who are at the highest risk of not accessing vision care programs.  The national rate of students from the general U.S. population who access vision care that detects and treats vision problems is only 15%.  In Missouri, the statewide rate of MOHealthNet publicly insured children who access comprehensive vision care is only 12%.  Remarkably, the rate of access for KVFL-STL is 40% of the Title I public school population that KVFL served in the 2012-13 academic year.  The KVFL-STL school-based model provides access rates for vision care that is triple the rate for MO HealthNet children or students in the U.S. general population.
Crown Vision Center asks you to help us grow KVFL-STL and reach children in many more Title 1 school districts who don't have access to vision care.  We accept and appreciate donations of any amount, but encourage a minimum $20 donation, which will furnish a complete pair of eye glasses for one student for the school year.   Your donation to KVFL-STL is greatly appreciated!  Thanks for helping to "Supplying Classes with Glasses" !!